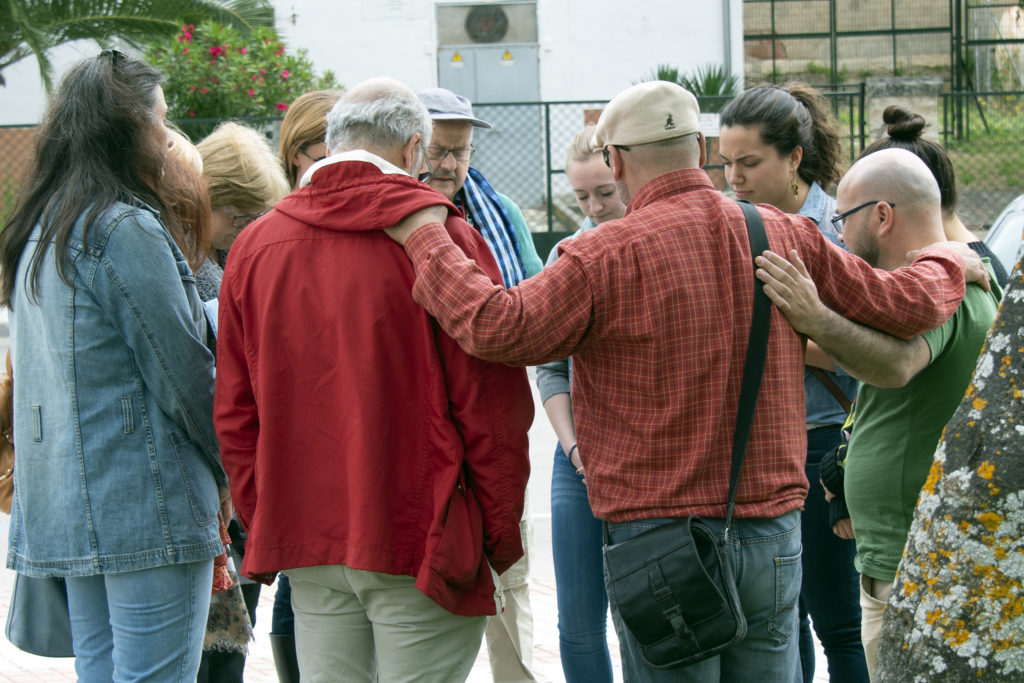 Prayer is Vital to Global Missions…
Prayer for global missions changes our hearts as we learn more about the world and rejoice in lives changed by the gospel. Thank you for caring enough about prayer to reach this page! May you grow in faith and joy as you partner with us in praying for the nations.
Specific Ways to Pray
Join us in praying for our missionary families, new believers, and the work of planting new churches among unreached people groups.
Form a prayer group that meets regularly. Use the monthly prayer calendar as well as updates you receive from missionaries you know personally to form a prayer team that consistently and routinely blesses our ministry.
Take a different kind of mission trip and pray on-site at one of our field prayer conferences. Locations vary each year – contact us for details!
Pray for missionaries, specifically that God will continue to make us aware of the needs of the people we serve and how to most effectively reach them with the Good News.
Pray for the world—that God's glory will be known among the unreached, the suffering, the poor, and the persecuted.
Last Month
Kids camp in Cameroon
Praise God for a successful kids camp that was held in Cameroon this summer. Pray that God's truth would take root in their hearts of the children and they would continue to follow him!
Watermelon project in Cameroon
One of our workers has begun overseeing a watermelon project with a national believer. Pray for him to have wisdom in facilitating the project and that others will be inspired by seeing the national believer's hard work in Christ.
Home assignments for workers in Cameroon
Give thanks for the home assignment time for some of the families serving in Cameroon. Pray for those that are returning to transition well as they get back to their roles on the field. Pray for restful and impactful time with friends and family for those who are just beginning their time back in the United States.
Workers studying language in Cameroon
Pray for multiple workers who are making progress in their study of the Baka language. Pray for language helpers who will be able to support them consistently in their language-learning journey and for encouraging progress in understanding and speaking the language.
Transition for worker with WT member care
Lift up one of our workers who has been serving in Cameroon and is transitioning into a role with World Team's member care ministry. Pray for her as she navigates the learning curve and effectively connects with global workers. Pray for her as she serves as a medical consultant remotely for WT Cameroon, as well.
Research trip in South America
Pray for a fruitful research trip that results in an entry strategy for a new expansion initiative to an unreached people group in South America!
WT Training Initiatives
Give thanks for the strong training initiatives throughout World Team and for the fruit we have seen from the coaching training. Pray for the continued success of these initiatives and that God would be guiding and encouraging everyone involved.
Students attending classes in Haiti
Thank the Lord that 30 students from the remote province of the Grande Anse were able to attend class at the Cite Lumiere campus for the month of August, overcoming obstacles of fuel shortages, roadblocks, and financial constraints.  Pray for these servants of Christ to bear much fruit in their lives and ministries, fruit that multiplies! 
Church association in Haiti
Praise God that MEBSH successfully held 11 regional conventions this summer.  Pray for the new executive committee as they get used to working together as a team (4 of the 9 members are new, and the three officers are new to those positions), as they face many complex challenges and decisions.  Pray that they act in faith and obedience to Christ, with courage and with gentleness, with unity, love, and with vision. 
Bible conference in Suriname
Pray for guidance for the Wayana who are preparing for their annual Bible conference which will take place in November. Pray also for wisdom for the next step in the Wayana's exploration of serving among unreached people in Canada.
Opened doors with The INN
Pray for the many resettled families that teams with The INN encounter. Pray that they would encounter Christ and respond to the gospel and that our workers would have doors opened to them to share Christ's love.
Student recruitment in Cambodia
Praise God for safe and successful trips to recruit students for the 2023 school year at the Plas Prai Center. The team met with over 100 students and narrowed it down to 12 with God's direction. Pray for these students as they will arrive in December for the new year.
WT Asia area retreat
Praise God for the World Team Asia Area Retreat that was held July 20-25th and was a huge blessing. 70 World Team workers met together from several different countries to fellowship, refresh, and be challenged.
Interns at Plas Prai dorm
Two interns served at the Plas Prai this summer. They spent over a month serving and loving at the Plas Prai dorm. There was much joy from this past month of relationship building. The students already miss them after their departure in early August. Pray that their experience helps guide the interns down God's paths for them.
New Cambodian internship program
Pray for a new internship program that has been set up for Cambodians who want to give their lives to God's service. Praise God that there are already two former students who want to join, and pray that this new program would be used by God to raise up workers for the harvest.