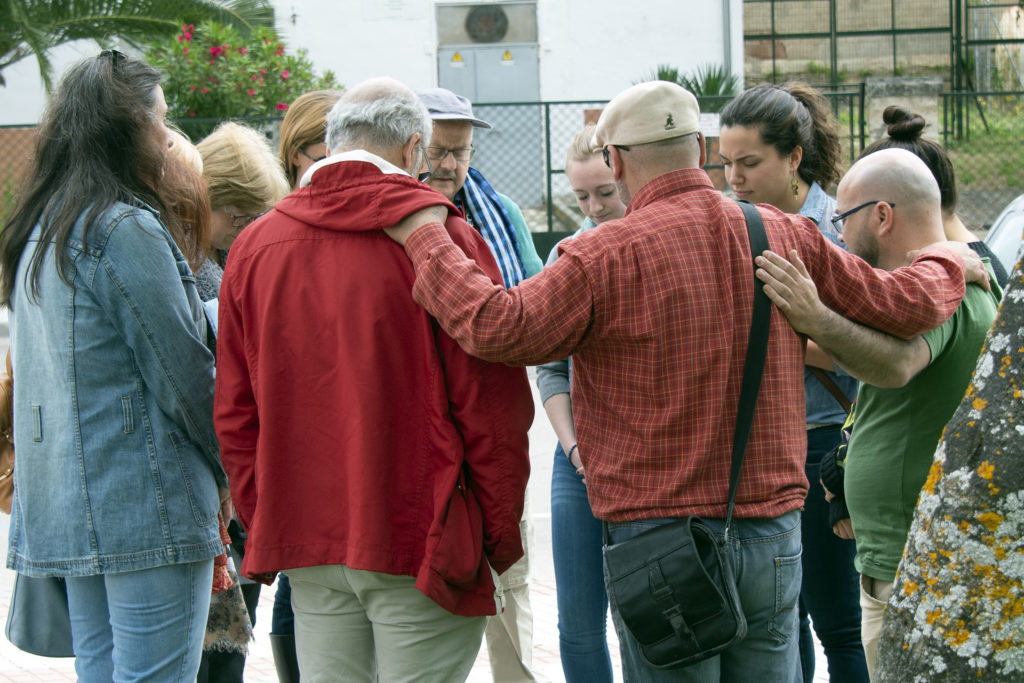 Prayer is Vital to Global Missions…
Prayer for global missions changes our hearts as we learn more about the world and rejoice in lives changed by the gospel. Thank you for caring enough about prayer to reach this page! May you grow in faith and joy as you partner with us in praying for the nations.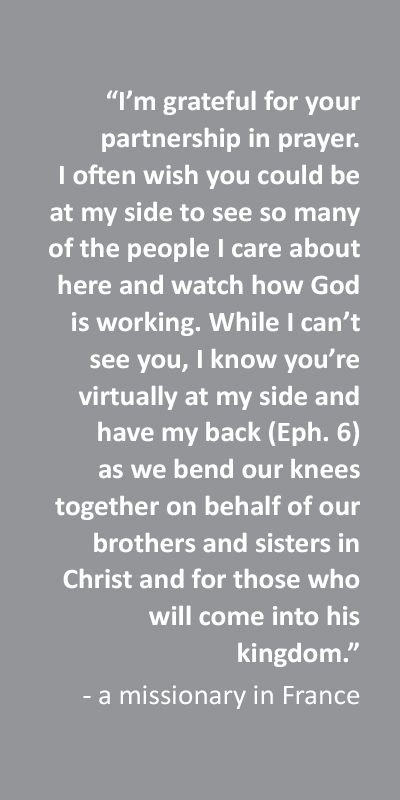 Specific Ways to Pray
Join us in praying for our missionary families, new believers, and the work of planting new churches among unreached people groups.
Form a prayer group that meets regularly. Use the monthly prayer calendar as well as updates you receive from missionaries you know personally to form a prayer team that consistently and routinely blesses our ministry.
Take a different kind of mission trip and pray on-site at one of our field prayer conferences. Locations vary each year – contact us for details!
Pray for missionaries, specifically that God will continue to make us aware of the needs of the people we serve and how to most effectively reach them with the Good News.
Pray for the world—that God's glory will be known among the unreached, the suffering, the poor, and the persecuted.
This Month
Prayers of our Missionaries in France
May God guide me towards people in search and give me his word for them. May I be able to discern their needs and respond appropriately. 

May the Holy Spirit work in the hearts of our friends, and may they respond positively to his action. We need God's grace and wisdom in our mealtime discussions. May we also have new people who want to discover who Jesus is through Bible reading or our small group meetings.
May we develop friendly and authentic relationships with our contacts at the local café.
Please Pray that our workers around the world will see God working in these ways this Christmas season.
Thanksgiving
Many of our American missionaries shared Thanksgiving meals with their friends worldwide (though not necessarily with all the traditional foods.) While it's a special time to share a piece of their own culture, the desire was a special meal with friends in which they could show thankfulness for one another and for our great God who loves and sustains us. Pray for those who participated in these meals- that relationships with our workers would be strengthened and they would come to know the One True God.
RACE
World Team US's candidate assessment school, RACE, was held in November. Praise God that two individuals have been accepted as missionaries with World Team. Pray for them as they now enter the daunting world of raising support and participating in extensive training provided by World Team and our partners.
Taiwan
Pray for J in Taiwan. He lived in a B monastery for a time when he was younger and is very much involved in temple visits and activities. But he is also questioning. He often comes by to have a drink and chat. Last week, for the first time, he participated in our fellowship meeting. He cried throughout the worship time and Bible study. It seems that he is easily moved, but we pray that he sees the difference between Jesus and B/traditional religions.
Baptism
Last month, we asked for prayer for M's upcoming baptism at a local park in Taiwan with her non-believing family in attendance. Praise God for this report from the missionaries…It's obvious your prayers were at work and sustained us! M's baptism was great. It was held in a local park, and we had no problems. There were quite a few non-Christians there, including M's family and some out-of-town friends. M gave a great testimony and honored her mother and father and expressed appreciation for the people in her life. She also testified to the goodness of Jesus in her life. Seeing our fellowship group come together to prepare music, move equipment, and chat with the family was wonderful.
Cambodia High School Dorm
Praise God and pray for these students…
October brought a celebration of the dorm's twelve graduates. The eight vocational students passed their final exams; the four other students are taking the national exam this week. Nine of them have been baptized! Seven plan to study at YWAM's six-month Discipleship Training School, and three have applied to World Team's university dorm in Phnom Penh. God's love has dramatically changed many of their lives in the past three years, fulfilling the dorm's name: "Plas Prai" means "Transform."
Mobilizer
Our current Northeast Regional Mobilizer (who runs short-term mission trips and actively recruits new missionaries to World Team) is currently preparing for her own journey as a missionary with World Team in the Middle East. Pray that everything comes together (funds, training, logistics, etc.) as she prepares for the future. This means she will be resigning as Mobilizer in January. Pray that World Team can quickly find someone passionate about missions and would enjoy coaching others along their journey.
Homegoing
Pray for the family of one of our missionaries (formerly in the Philippines and now in the US for the last few years) who, after a 15-year bout with cancer, has gone on to be with the Lord. Pray that his life would be a testimony to those attending the Celebration of Life in early December and that people would be moved to Christ. Pray for his wife, three adult children, and two grandchildren as they mourn his loss but rejoice that he is in the presence of his Savior.
Filipino Church Resources
Praise God for the study resources left behind by our missionary to the Philippines, who went on to be with the Lord last month. As he became weaker and weaker over the last few years, he never stopped working on and creating these materials. Pray that people for generations would be blessed by them.
Cricket League
One of our workers has been nominated to a leadership position in his local cricket league (quite an honor for someone of a different background than all the other players.) This will provide him with opportunities to befriend and share the gospel with other teams and their players! The whole family is already involved in ministering to their own team. Pray this would be an excellent opportunity to reach more individuals with the gospel. Pray also for the family, as this position will require more time in planning and organizing.
Workers
"The harvest is plentiful, but the workers are few." Pray that more men and women of God would be raised up with the desire to serve unreached people groups around the world. Many of our fields would love to have more people join their teams as they endeavor to share the gospel in their towns, cities, villages, tribes, etc.
Christmas Celebrations
Workers across the globe will be planning celebrations for Christmas to invite their friends and neighbors to. Some will be large outreach events, and some will be small, quiet gatherings with friends. Pray that each one would be special in its own way and that during this time, when people are a little more open to the gospel, lives will be changed for eternity.
Last Month
Bible Training
Pray for students in Taiwan as they have a special guest coming in the first week of November who will train them in studying and teaching the Bible. The students are looking forward to it. The training was supposed to take place in October, but our missionaries and at least one of the students had Covid. Pray that everyone would be healthy and able to attend and that much would be learned and used to further God's kingdom.
Baptism
Our team in Taiwan is preparing for M's baptism in the second week of November, to be held in a public park. M will have four family members as well as quite a few friends present. She is excited to share her testimony with them. Please pray that M speaks clearly. Pray for the nonbelievers there, that God would soften their hearts to hear about how great He is. Please pray for good weather and the logistics of bringing supplies (chairs, a 'baptismal', etc.).
Podcast
Three of the young folks in Taiwan have started a podcast about their experiences as Christians. They are hoping it will be helpful for non-Christians to hear and answer some of their questions. We are so grateful for their initiative and desire to see others come to faith in Jesus, especially using a medium that young people are very receptive to. Pray that many would listen and be drawn to Christianity.
RACE
The first full week of November will be World Team US's candidate assessment school, RACE. Pray for each candidate and assessor as they go through this week to discover how the candidates will fit with World Team's ministries. Pray for guidance, clarity, patience, and understanding during a stressful but rewarding time
Expansion Gathering
The World Team US Center will hold a three-day planning and training session during the second week of November. This event will be for those planning to serve in one of the US's three new expansions- Belgium, Paraguay, or Jordan. Praise God that we have workers ready to open up these new fields. Pray that their time of training, team building, and prayer would be fruitful and God-honoring.
Global Expansions
Pray for our South Asia and Chad expansions to continue to move forward. Praise God for encouraging vision trips, and pray that we would be able to get people on the ground soon.
Almost There
Pray for an appointee couple who are so close to raising all of their support. They hope to depart for Brazil in January. Pray that the last little bit will come in by Christmas!
High School Dorm in Cambodia
Pray for our national WT partner and team member, Sina, as she stepped into the role of Plas Prai (the high school dorm) manager in October! She will do a fantastic job! Please pray for this transition. Sina came to Christ through the church plant in Cambodia, was very active in children's ministry during high school, and just finished a year with YWAM in Africa.
Grade 12 students in the Plas Prai dorms in Cambodia are finishing their final exams over the next couple of weeks. They would appreciate your prayers.
Pray for our follow-up of the new believers (over 20 family members of Plas Prai students) who have come to faith over this last year. 
Summer Internships
It may seem a long way off, but now is the time to start thinking about short-term trips in the summer. Pray that God would lay it on the hearts of just the right people to participate in trips to the Philippines, Spain, Cambodia, Europe (multi-city), and with refugees in the US.
Thanksgiving
Praise God for all that he has given us. Praise him that we get to be a little part of his great plan for humanity. Pray that we will continue to be faithful to him as he is to us.
World Team Foundation
World Team USA recently announced the formation of the World Team Foundation, a new initiative and key part of World Team's strategic plan. We recognize that new models of financing global missions are needed to ensure that the great work of building new church communities across the world continues. Pray that this initiative would enable World Team to raise finances where there are gaps and enable workers from around the globe to participate in the Great Commission.