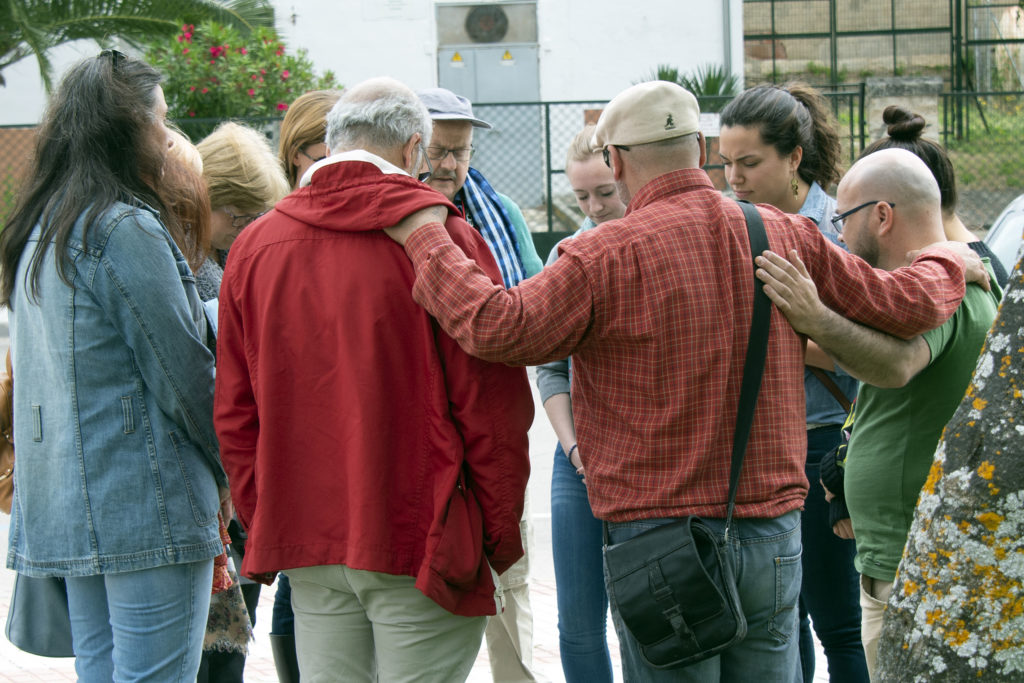 Prayer is Vital to Global Missions…
Prayer for global missions changes our hearts as we learn more about the world and rejoice in lives changed by the gospel. Thank you for caring enough about prayer to reach this page! May you grow in faith and joy as you partner with us in praying for the nations.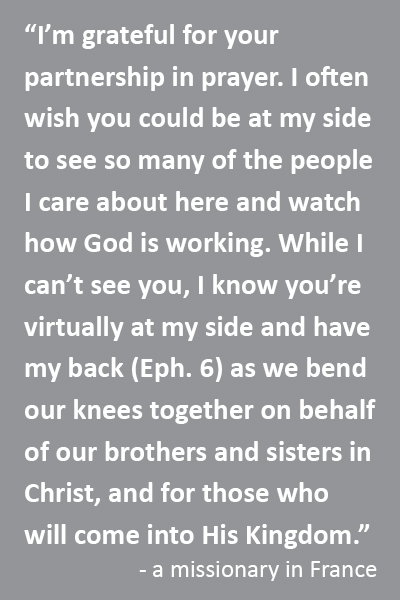 Specific Ways to Pray
Join us in praying for our missionary families, new believers, and the work of planting new churches among unreached people groups.
Form a prayer group that meets regularly. Use the monthly prayer calendar as well as updates you receive from missionaries you know personally.
Take a different kind of mission trip and pray on-site at one of our field prayer conferences. Locations vary each year –contact us for details!
This Month
New Field Possibility
Pray for Nathan and Dan's trip to a region WT Africa is hoping to send a long-term team to. Pray for their continued partnership with the national church. Pray for perseverance as well as discernment if this region is a place Nathan should serve long-term."
Latin America Initiative
Pray for the Latin America Initiative team as they continue to build relationships with Latin America mission groups who are seeking to send workers to the unreached. Pray for several workers who are in the process of partnership development and would like to work with WT teams around the world.
Returning to the Philippines
Pray for Bryan & Jacinda as they travel back to the Philippines; that they would be able to navigate the requirements to return to their home and ministry there.
Returning to Cambodia
Give thanks that two of our workers safely arrived in Cambodia recently after a lengthy delay. Pray for patience and grace during their required 14-day quarantine upon arrival in Cambodia.
Bible School in Cambodia
Pray the Bible school students in Cambodia will each hear from the Lord clearly about anything he wants them to know or do through this week.
Bible school in Cambodia
Pray that these lessons will help the students have pegs to hang Biblical truth on, keeping them safe from false teaching and able to handle the word of God accurately.
Bible school in Cambodia
Pray that this knowledge will not lead to pride, but rather, would be applied to their own lives as the Holy Spirit leads.
Bible school in Cambodia
Pray that the leaders and teachers at the school would shine in their spheres of influence and give many the opportunity to see the gospel lived out in word and deed.
Dorm ministry in Cambodia
So far in 2021, God has provided the team with two rental buildings in a safe neighborhood nearby and moved in the hearts of supporters to cover the expenses to run the Dorm for the first six months.
Dorm ministry in Cambodia
Praise God for bringing forward Khmer friends passionate about University Dorm Ministry to help the team draft and edit the philosophy, application, and in-house rules and complete the translation into Khmer.
Dorm ministry in Cambodia
Give praise for made connections that resulted in applications and interviews from 6 girls that want to move into the dorm. Pray for these interviews and the decision-making process that will follow.
France
Pray for C, who has faithfully attended small group Bible studies online since the beginning of November. His growth in the Lord and steps of faith that he is taking have been encouraging. Pray that God would continue to strengthen him and grow him.
France
Pray for the physical and psychological impact of the pandemic on the believers and communities in France. Many people are struggling - pray this would be an occasion to turn even more to Christ and trust in Him.
Cameroon
Pray for a pastor's vision to plant an urban church among the Esimbi once the Bible translation is completed. One of his major desired outcomes is to nurture and grow the church to partner with the children's ministry in the homeland.
Cameroon
Elijah, an Esimbi translators and literacy worker who is also a school teacher, has been working on his own newly written Esimbi literacy book. Pray for him in this project and for his teacher training.
Cameroon
Give praise that Zac and Hannah have already been able to jump into another role of ministry by taking interns back to Yaounde for their flights out of Cameroon. Pray for the conversations and fellowship that this time allows them.
Cameroon
Pray for the team as they build a house in a new ministry location sometime in the next couple of months. Pray for the planning and preparations, as there will be a lot to learn and figure out during this process.
Cameroon
Pray that Zac and Hannah would be able to find a new signal booster as their current one is irreparably damaged and now unusable. The booster allows them to communicate via email and occasionally participate in video calls from their home.
Spain
Pray for the Tjernagel family during this difficult time of losing their daughter, Hannah.
Spain
Pray for the team in Caceres (where the Tjernagels were ministering) as we are in contact with many who are hurting after the loss of Hannah. That we can have words of hope even in the midst of our grief.
Spain
Pray for the English Academy in Caceres as we maneuver the many restrictions due to COVID.
Spain
Pray for our relationships with the newer believers in our community that are challenged especially by not being able to disciple them in person as much as we'd like.
Spain (Velilla)
Pray for our Biblical conferences to continue to be a source of outreach as they have been this past year.
Spain
Pray for the Velilla team: We've had several sicknesses lately with César Palomino and his family in quarantine and with COVID, and Dylan Williford recovering from a dental operation.
Spain (Bejar)
Pray for the many who have connected to church services online during these days who have never come to church before. Pray that God continues to use the church to reach others for him.
Spain
Pray for approval in the visa process for the Champlins.
More Philippines Prayer Requests
The Philippines field has a new web presence to share news and prayer requests. Join in from your social media platform of choice.
Last Month
Latin American workers across the globe
Pray for Latin brothers and sisters working around the world as their home countries and where they serve right now, are hit very hard by the pandemic. Ask God to help them remain firm and steadfast, and trust in him to meet their needs.
Candidates seeking wisdom
Lift up two candidates who have been able to return to their home countries to be with family after completing their studies. They are now seeking wisdom as to next steps in these times of uncertainty.
Partners in Chile
Pray for our partner agency in Chile as they continue to offer seminars on zoom as to how churches can enlarge their missionary vision. They are gathering people together for prayer, as their appointees seek to get their remaining support with the goal of leaving for their chosen fields of service.
Baptism event in France
Praise God for a recent socially distanced baptismal service in France that was able to be attended by many, including quite a few visitors. Pray that this event will have had an impact on the hearts of those who were able to attend.
Pray for those who had friends and family attend the baptism event. Pray that their conversations with these loved ones would bear fruit as they talk about the gospel and what it means to have faith in Christ.
Patience for France appointee
Pray for Dorothy, who was hoping to join the team in France soon but has been unable to do so due to travel restrictions. Pray for patience for her as she continues to raise support with an eye on being able to move in the next six months.
Student-led Bible study
Pray for M, who did a great job in leading Bible study for the first time in December. People were really engaged, and he felt grateful for the opportunity to do it. Pray that he will be willing to do so again soon!
Student interested in learning about Jesus
Lift up R, who is showing a greater interest in learning and understanding the Bible. Pray for protection for him from distractions as he pursues a relationship with Jesus. Pray for the team as they help shepherd him.
Seeking more students to lead study
Give thanks that another student has been willing to lead the Bible study recently. Pray that more students would gain an interest in teaching and leading discussion about the Bible and pray that the studies would be fruitful and faithful to the Word.
Prospective workers attending RACE
Pray for prospective workers who will be attending World Team's candidate assessment (RACE) in March. Ask God to provide for their planning and travel needs in the coming weeks.
Planning for RACE event in March
Pray for the leaders at the US Center as they plan RACE. Pray for God's guidance for each of them and good collaboration among them as they make decisions leading up to the assessment.
Workers arrive in South America
Pray for our workers who recently arrived in South America to begin their first term. Give praise that they were able to say goodbye to friends and family safely, and pray that their transition into their new roles will be as smooth as possible.
Student comes to faith
Praise the Lord that one of Sean's university students accepted the Lord as his savior because of the course Sean taught. Pray for the student to continue to grow in his faith.
Pastoral training in Haiti
Pray for the restart of a pastoral training program in a remote town. The plan is to reopen this program in with 33 MEBSH pastors enrolled. Pray for financial provision and for the pastors to grow through this program.
Team researching new immigrant ministry
The research team about an immigrant ministry that Sean co-leads has made good strides. Pray for the Lord to direct the team's vision and collaboration.
Construction project in Papua
Give thanks for the opportunity to oversee the construction of three buildings at the national church's new center. This has been a welcome project in a time of uncertainty and lockdowns.
Missions training in Papua
Pray for one of our workers who will be traveling to teach at a mission training center for a week. Pray that God would protect them in their travels and provide wisdom as they teach their classes.
Reaching the unreached in Peru
Pray for the team in Peru as they work among an unreached immigrant population. Pray for grace and perseverant spirits as they work to build connections and share Christ.
Ministry opportunities growing in Peru
Give praise for successful joint services with three churches recently and pray for the team as they look to start up a new discipleship training course this year.
Faith Academy needs and students
Pray for Faith Academy, a school for missionary kids in the Philippines, where Brian & Carol serve. Pray for staffing needs of Faith Academy. Pray for the students as they are struggling with online learning at Faith Academy.
Baptisms and new believers
Praise God for several baptisms recently on Catanduanes Island, as well as new people coming to Christ. Pray for missionaries Teng and Edna, and pray for God to continue to build his church there.
Adoption hearing in The Philippines
Pray for Dan and Heidi's upcoming adoption hearing on February 5. This is the first of several rescheduled hearings. Please pray that this hearing will happen and that they will find favor with the new judge. Pray that the judge will see that Abigail was meant to be in their family, not only in their hearts but also legally & officially.
New outreach initiative
Pray for a new initiative to reach one of the unreached tribes in the Philippines. We are working to put a team together and enter this unreached people group in three to four years.
Leadership development in the Philippines
Pray for grace and wisdom for a worker who is developing leaders in the church in Kamandag (a poor squatter community near Manila). Also, pray for the salvation of his foster son.
Workers waiting to return to the Philippines
Pray that the six 6 WT Philippines units stuck in the US/Canada will soon be able to return to the Philippines. Pray for those newer workers who are continuing to study the language of Tagalog online during this time.
Workers on home assignment
Pray for Josh and Joy, who are currently on Home Assignment in the US. Pray for their partnership development and the process of recasting vision for their next term in the Philippines.
Wisdom and vision for the Philippines Field Director
Pray for God to give wisdom and vision to Tom, the WT Philippines field director, as he leads during this challenging time.
Bible Training Center students and staff
The Bible Training Center continues to work with eight First-Year, five Second-Year, and six Third-Year students who are based in various fields. All have remained healthy, and the new teacher, Dominik, is doing well. There is unity with the all-tribal staff, but there are various logistical issues that need prayers and make operating a school difficult.